CH. Charming Siberian Sapphire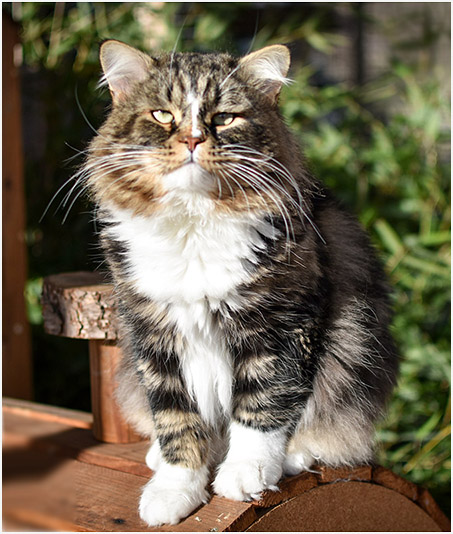 Male Sibérian, Black Blotched tabby with white (SIB N 22 09)
Titres :
Champion TICA
Double Champion LOOF
was born february 16th of 2015 at Kharkov (Ukraine)
N° LOOF : 2015CE.804
N° WCF: UAS 4139-15/SIB
Father : Gr.Int.Ch. Gordey Sibirskoe Knyazhestvo
Mother : Ch. Mittelmeijer Marta

Tests : Fiv/Felv négative
PKD (sonography) : normal,
HCM (sonography Dr. Nicolle) 19/02/2016 : normal, 25/08/2017 : normal,
PKDef N/N (normal/not carrier)

He's son of the great international champion, Gordey Sibirskoe Knyazhestvo, and Marta Mittelmeijer, who comes from a good cattery know for their pretty white socks. He's a really lovely boy, he likes cuddles and purrs all day long. He was a big baby, already 5kgs at 6 months old. He get very fast along with other pets; he is very kind. He loves to get paws wet and running.
Pictures of my parents and Grand Parents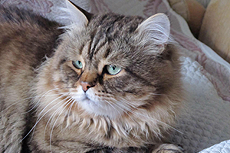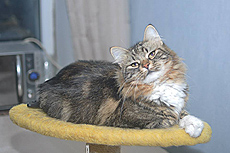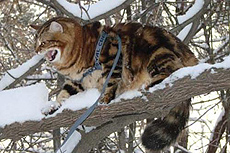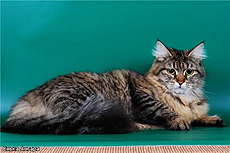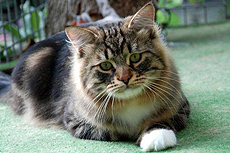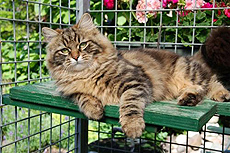 Show Results :
2 x NOM BIS, 2 x BIV, 1 x Prix Special, 10 x Excellent 1er

Date
Ville
Classe
Juge
Titre
24 Octobre 2015
Toulouse
6/10 mois
Joel HENRY (FR)
Excellent 1er, BIV
24 Octobre 2015
Toulouse
RING SP
Asa Broing (TICA)
9ème - Charming devient CHAMPION TICA
CHARMING DEVIENT CHAMPION TICA
14 novembre 2015
Toulouse
7/10 mois
Carin SAHLBERG (FIN)
Excellent 1er
15 novembre 2015
Toulouse
7/10 mois
Fabrice CALMES (FR)
Excellent 1er
23 janvier 2016
Narbonne
CAC
Richard Maignaut (FR)
Excellent 1er, CAC,Prix spécial, NOM BIS
24 janvier 2016
Narbonne
CAC
Jacques Grognet (BE)
Excellent 1er, CAC
13 février 2016
Toulouse
CAC
Sandra Licciardi (FR)
Excellent 1er, CAC
CHARMING DEVIENT CHAMPION
14 février 2016
Toulouse
CACIB
Albert KURKOWSKI (PL)
Excellent 1er, CACIB, BIV
2 octobre 2016
Toulouse
CACIB
Françoise DUBOIS (FR)
Excellent 1er, CACIB
11 février 2017
Toulouse
CACIB
Aline Noel GAREL (CA)
Excellent 1er, CACIB, NOM BIS
CHARMING DEVIENT DOUBLE CHAMPION
12 février 2017
Toulouse
CACIG
Richard MAignaut (FR)
Excellent 1er, CACGI