CH. Izhora for Slavicat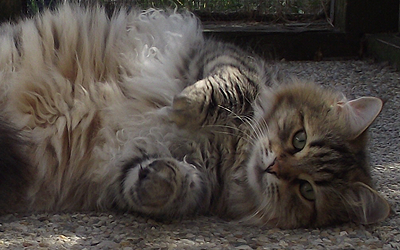 Siberian female, Brown spotted tabby (SIB N 24)
Titre :
Double Champion (LOOF)
Champion TICA
was born on september 16th, 2014 in Moscow (Russia)
N° LOOF : 2015CE.442
N° WCF : RU-0170-14/013/SIB/2015
Sire : Ch. Angelur Zemelah
Dam : Ch. Camella Slavicat
Tests : HCM/PKD normal (sonography February 2016), Fiv/felV negative
PKDef (DNA) : N/N (heathly/not carrier)
Izhora loves cuddles and purr when she decides! She has a very particular way to meow, she she kinda sing! Even with her young age, she already has the "barrel" form, she's strong, with nice lynx tips on her ears, which give her that special wild face. She has beautiful green eyes and beautiful "racoon type" tail!

Pédigrée
More pictures of Me!
Pictures of my parents and grand-parents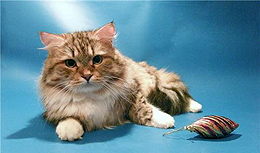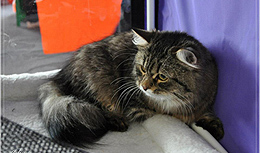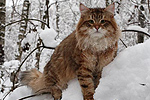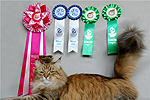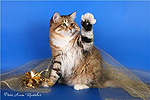 *Show results :
1 xBIS (Best in Show), 2 xNOM BIS (nomination best in show), 1 xBIV (best in variété), 7x Excellent 1er


Date
Ville
Classe
Juge
Titre
24 Octobre 2015
Toulouse
CAC
Irina KHARCHENKO (RU)
Excellent 1er, CAC, 9th SIBERIEN
24 Octobre 2015
Toulouse
RING SP
J.Marc Lagarde (FR)
Ring SP Femelles, 10ème best Femelle
24 octobre 2015
Toulouse
RING AB
Tomoko Vlach (AU)
8ème ALL BREED
24 octobre 2015
Toulouse
RING AB
Mimi Tsuruoka (JP)
8ème ALL BREED
Izhora devient Championne TICA
14 novembre 2015
Toulouse
CAC
Martin KABINA (CZ)
Excellent 3
15 novembre 2015
Toulouse
CAC
Kai RUONALA (FIN)
Excellent 3
23 janvier 2015
Narbonne
CAC
Jacques Grognet (BE)
Excellent 1er, CAC, NOM BIS
24 janvier 2016
Narbonne
CAC
Richard Maignaut (FR)
Excellent 1er, CAC, NOM BIS,

BIS

IZHORA DEVIENT CHAMPIONNE
13 février 2016
Toulouse
CACIB
Sandra Licciardi (FR)
Excellent 1er, CACIB, BIV
14 février 2016
Toulouse
CACIB
Albert KURKOWSKI (PL)
Excellent 1er, CACIB
2 octobre 2016
Toulouse
CACIB
Françoise DUBOIS (FR)
Excellent 1er, CACIB
IZHORA DEVIENT DOUBLE CHAMPIONNE
11 février 2017
Toulouse
CACGI
Aline NOEL GAREL (CA)
Excellent 1er, CACGI